• HPU for the marine crane movement and rotation control.
• Power plant with electrical or endothermic engines.
• Rotation control systems.
• Cylinder movement control systems.
Specific painting cycles for marine environments.
We can provide our clients with installations and systems approved by notified bodies, like DNV, ABS, Bureau Veritas, RINA, Lloyd Register, RMRS.
We can provide our clients with proportional control valves for really high capacities.
We can also supply our clients with ATEX certified equipment.
Expertise: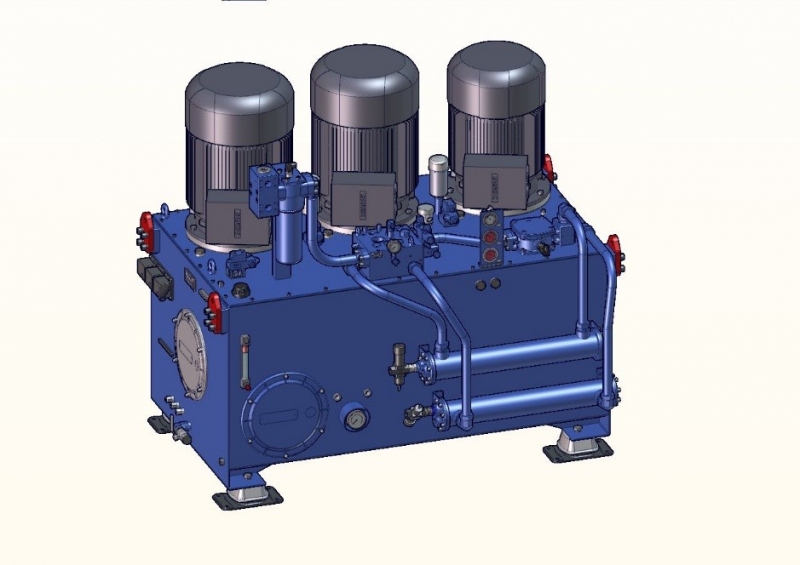 Power: up to 450 kW [600 hp]
Flow rate: up to 2.000 l/min [530 gpm]
Pressure: up to 420 bar [6000 psi]
Temperature: -40 °C +60 °C [-40 °F +140 °F]
Certifications: according to: DNV GL, ABS, BV, RINA, LR, CCS, KR, RMRS, ATEX, SIL requirements
Process Control: WPS, PQR, NDT, mechanical stress and wearing tests
Engineering international standards: IEC61508, IEC61511, ASME, EU Directives rules and specifications
Painting: C5M cycle, based on customer specifications
Surface treatments: phosphating, electrolytic protections, nitrocarburizing, stainlees steel surface finishing
Materials: AISI 316L, 6MO, duplex, tungum
Aisi 316 valves
Aisi 316 accumulators
Proportional valves IECEx, ATEX, EAC
Ermeto® DIN fittings
Proportional Load Sensing Valves up to 2000 l/min
Counterbalance Valves
Manifold flanged directly onto motors
Manifold, HPU (Hydraulic Power Unit) and Integrated System full engineering
Fluid dynamics simulation
Structural calculation
Deep analysis and check of every single system parameter with specific and official report release
Final operational test of the whole system
World Wide commissioning with high level expertise technicians
Rigid and flexible piping and on-site full assistance
40 years-experience in the hydraulic field and a very passionate team of engineers and technicians who work every day close to our customes
Gallery